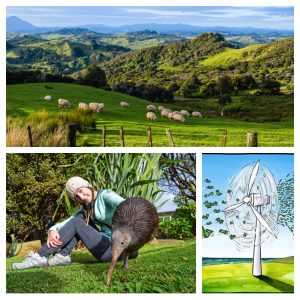 Once upon a time, 258 words, satire, by Cole Ryan, 24th August 2018
Once upon a time there was a lovely pacific island down-under that was a nice home for sheep and kiwi-birds and people, things were going along nicely for the people of New Zealand (NZ), sending butter and lamb and forestry out to the world, and the world coming to NZ to visit its beautiful rainforests and mountains. 
There was enough money flowing around that NZ could afford health care and education and welfare for its citizens, but it all started to change when politicians signed onto the Paris Climate agreement. 
The Government then decided it needed to spend 14 billion dollars to honor the agreement and try to do the right thing and help save the world from global warming. 
This was a lot of money for a country of 5 million people and 40 million sheep, taxes had to be raised and electric cars subsidized and funding that would normally have gone to hospitals and schools was needed to buy climate credits from other countries. 
Then the high cost of the mandatory alternative energy in NZ made it uncompetitive with its trading partners like the USA, China and Japan who had all either left the Paris agreement or had ignored it and were busy building new cheap and reliable thermal coal electricity plants. 
Life became tougher in paradise, particularly for the less well-off, a $100 didn't go very far at the supermarket anymore, but New Zealanders could walk around basking in the green glow of having adhered to the letter of the Paris climate agreement and that was worth the sacrifice. 
Cole Ryan.