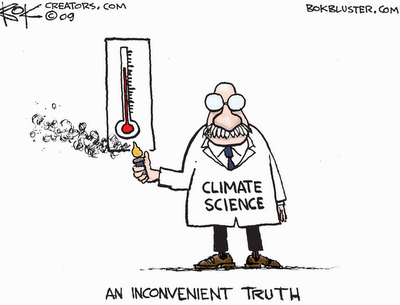 So global warming is dead, nailed into its coffin one devastating disclosure, defection and re-evaluation at a time. Which means that pretty soon we're going to need another apocalyptic scare to take its place.
As recently as October, the Guardian reported that scientists at Cambridge had "concluded that the Arctic is now melting at such a rate that it will be largely ice free within ten years." This was supposedly due to global warming. It brought with it the usual lamentations for the grandchildren. But in March came another report in the Guardian, this time based on the research of Japanese scientists, that "much of the record breaking loss of ice in the Arctic ocean in recent years is [due] to the region's swirling winds and is not a direct result of global warming."
It also turns out that the extent of Arctic sea ice in March was around the recorded average, according to the National Snow and Ice Data Center. The difference between the two stories has little to do with science: There were plenty of reasons back in October to suspect that the Arctic ice panic—based on data that only goes back to 1979—was as implausible as the now debunked claim about disappearing Himalayan glaciers. But thanks to Climategate and the Copenhagen fiasco, the media are now picking up the kinds of stories they previously thought it easier and wiser to ignore.
This is happening internationally. In France, a book titled "L'imposture climatique" is a runaway bestseller: Its author, Claude Allègre, is one of the country's most acclaimed scientists and a former minister of education in a Socialist government. In Britain, environmentalist patron saint James Lovelock now tells the BBC he suspects climate scientists have "[fudged] the data" and that if the planet is going to be saved, "it will save itself, as it always has done." In Germany, the leftish Der Spiegel devotes 15 pages to a deliciously detailed account of "scientists who want to be politicians," the "curious inconsistencies" in the temperature record, the "sloppy work" of the U.N.'s climate-change panel and sundry other sins of modern climatology.
As for the United States, Gallup reports that global warming now ranks sixth on the list of Americans' top 10 environmental concerns. My wager is that within a few years "climate change" will exercise global nerves about as much as overpopulation, toxic tampons, nuclear winters, ozone holes, killer bees, low sperm counts, genetically modified foods and mad cows do today.
Something is going to have to take its place.
The world is now several decades into the era of environmental panic. The subject of the panic changes every few years, but the basic ingredients tend to remain fairly constant. A trend, a hypothesis, an invention or a discovery disturbs the sense of global equilibrium. Often the agent of distress is undetectable to the senses, like a malign spirit. A villain—invariably corporate and right-wing—is identified.
Then money begins to flow toward grant-seeking institutions and bureaucracies, which have an interest in raising the level of alarm. Environmentalists counsel their version of virtue, typically some quasi-totalitarian demands on the pattern of human behavior. Politicians assemble expert panels and propose sweeping and expensive legislation. Eventually, the problem vanishes. Few people stop to consider that perhaps it wasn't such a crisis in the first place.
This is what's called eschatology—a belief, or psychology, that we are approaching the End Time. Religions have always found a way to take account of those beliefs, but today's secular panics are unmoored by spiritual consolations or valid moral injunctions. Instead, we have the modern-day equivalent of the old Catholic indulgence in the form of carbon credits. It's how Al Gore justifies his utility bills.
Given the inescapability of weather, it's no wonder global warming gripped the public mind as long as it did. And there's always some extreme-weather event happening somewhere to be offered as further evidence of impending catastrophe. But even weather gets boring, and so do the people who natter about it incessantly. What this decade requires is a new and better panic.
Herewith, then, I propose a readers' contest to invent the next panic. It must involve something ubiquitous, invisible to the naked eye, and preferably mass-produced. And the solution must require taxes, regulation, and other changes to civilization as we know it. The winner gets a beer and a burger, on me, at the 47th street Pig N' Whistle in New York City. (Nachos for vegetarians.) Happy panicking!