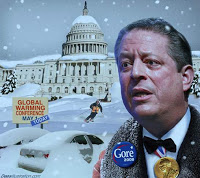 By Roy W. Spencer, Ph. D.
In an unprecedented about-face, Al Gore last night recanted his claim that mankind is causing global warming. The announcement was made late Tuesday night from his Nashville home through his press secretary. Mr. Gore has remained unavailable for comment. In part, the announcement reads:
"While I will continue to support the development and rapid deployment of alternative energy technologies, I believe that the science can no longer support the view that catastrophic global warming is probable. This decision has required considerable soul searching on my part. But this is the nature of science, and scientific progress. I have no regrets over the path I have chosen."
The announcement says that Mr. Gore will be publicly renouncing his portion of the Nobel Peace Prize, which was awarded to him in 2007 for his tireless efforts to raise global awareness of the climate crisis. In fact, he will no longer be referring to the fight against a 'climate crisis', but instead the fight will continue against a "global energy crisis".
"The need for inexpensive and readily available energy is the most important issue facing the world's poor", the statement reads, "and I will be advocating free market approaches to the leaders of Third World countries in order to allow their citizens to enter and contribute to the 21st Century global economy."
There is also the hint that he is considering returning his Academy Award for best documentary, although he hopes that a new movie category (best movie, science fiction) will be created to accommodate his highly acclaimed motion picture on global warming, An Inconvenient Truth.