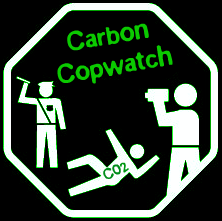 By Justin, ILCD founder and editor
Here comes a very special and very personal post. Our website has just surpassed one hundred thousand unique visitors and over 500 articles from some of the best scientists, journalists, and freedom fighters on the planet. We thank all of the contributors, submissions, and news tips sent by all of you.
To mark this special occasion, I coincidentally had a run in with a very scary new "green" authoritarian organization right here in my backyard. This group of legalized criminals is better known as the Vancouver Police Department. Yes yes I know, they're small potatoes compared to our real enemies at the US administration and the UN which we fight against daily. But nevertheless, the day that many people have feared has arrived. The day that carbon cops coming to visit and ticketing us for living our normal lives. It's here.
So, what was the police visit about, you ask. Well, no, it had nothing to do with this website, our mission, and our constant fight for the green truth. They weren't acting as thought police, don't worry. In fact, it wasn't about any real crime at all. It was all about the VPD enforcing a feely-goody nonsensical bylaw on a taxpayer who pays their fat salaries.
They decided to send a V8-powered Ford Crown Victoria all the way across town to, get this, tell me to turn off my truck engine! I'm not making this up.
As all our Vancouver readers likely know thanks to the hundreds of taxpayer-funded propaganda street signs all over the city, it is against a city bylaw to idle your vehicle engine for more than three minutes. It is, of course, a bylaw that makes absolutely no scientific sense and should be ignored and protested at every opportunity. Cops leave their cars running for full shifts, hypocrites. And any city bylaw that doesn't apply to a police car running its engine most certainly doesn't apply to my car. Police are not above the law, despite their actions to the contrary and whatever fine print is included in the bylaw. Public perception and how officers conduct themselves is all that matters.
It is below freezing tonight thanks to global warming, and as any good mechanic will tell you, it is best to ALWAYS run your engine for five to ten minutes to properly warm it up and get the juices flowing BEFORE you drive. Especially large engines and older engines. There is simply no such law or peace officer who has any right whatsoever to instruct a citizen how to properly start and maintain his/her vehicle.
Furthermore, all vehicles registered here in Vancouver are inspected by AirCare which ensures that vehicle emissions systems are functioning properly. To be precise, if your car passes AirCare, that means your catalytic converter is working properly and your vehicle is emitting primarily CO2 (plant food) instead of actual harmful substances. The officers didn't get that memo. One of them even claimed "It's for the environment!" as she handed me the ticket. Oh wait, you mean like pretty much every single eco-scam money grab in existence these days? Yeah, thought so. She's the criminal, not me. Just like Gordon Campbell, our Premiere, is an even bigger criminal thanks to his carbon taxes imposed on all citizens of this province.
Thanks to the hugely successful environmentalist campaigns we always talk about here which have managed to convince many average Joe's that CO2 is a "pollutant", that has become the very basis for this city bylaw along with curbing "GHG" emissions they still believe are harmful. ("Bylaws" are certainly not the law of the land, and the more of them that are created the less significant they all seem to become. This one is beyond common sense)
At any given time you're always doing something illegal no matter what, and therefore the police can harass you whenever they want. That's not much of an exaggeration.
But here's where it gets even more insane: Of course it's perfectly okay to DRIVE AROUND for ten minutes, but if your vehicle is stopped, they can hit you with a fine! This is madness, a slap in the face to our rights, and due to the enforcement officers' decision to serve me with a fine tonight, I'm fighting back. Funny, how the police actually cause their own battles, eh? They could have expressed their opinion on the matter or better yet, do what feels right. Instead, like the drones that they are, they must do everything by the book and trained to immediately intimidate if you show resistance. Or maybe they actually buy into the carbon-is-bad religion? I don't know, but I attempted conversation. No dice. Here's your fine, good night. As soon as they left I started my engine. Assholes. And yes, they were videotaped. I will catch them doing something wrong at any opportunity possible.
This entire issue must be fought, and I shall never pay any fine which is immoral to me. It's immoral because there is no reason for this bylaw aside for making money for the city coffers and giving the police yet another reason to make themselves feel powerful. Any law or bylaw as assinine as this heeds no respect and I do not recognize the authority of anyone who attempts enforcement of it. I don't give a rats ass if you have a badge, you're not doing your duty as a peace officer if this is how you earn your payroll. And, as I told it to their faces, it's beyond ridiculous and I will fight it.
It is unthinkable that it takes them over half an hour to show up if your house is broken into (if they show at all), but within ten minutes they're harassing someone for the horrible crime of warming up their vehicle. Why? Easy money. Or perhaps some greenie complained thanks to their new "weapon". If this is not the true beginning of a green police state, I don't know what is. Now, just imagine if those UN criminals in Copenhagen manage to get even deeper into our lives. Will the VPD and RCMP attempt to enforce "carbon limits" through various laws and bylaws such as this? Will you be told to turn off and restart your engine at red lights and traffic jams, therefore ruining your starter and causing unneccesary wear and tear on your engine?
Time to speak up. And if the UN, federal government, RCMP, and local police start restricting travel rights and threaten property rights, then it's time to arm yourself, Canadians. Not just physically but also with knowledge. This "bylaw" is a small step towards a much scarier picture, such as the proposed Cap-and-tax legislation being pushed by the Obama administration. Part of that legislation calls for issuing fines to homeowners if their house isn't deemed "energy efficient" enough. And charging you with "unlawfully occupying" your own home. I know that Americans will not stand for that, and will fight back with force if necessary.
What I'm dealing with here is just the beginning of that nightmare. Cops already have a false sense of authority in many regards, such as driving rights VS what the police like to call driving "privileges", dealing with "Motor Vehicle acts" and so-called bylaws that hamper our inalienable right to drive. Another unrelated matter I looked into was regarding the VPD being under the delusion they have any right to tell a citizen that they cannot be in a public park or beach after 10pm (yes, it's another city bylaw with no teeth). Turns out the VPD are out to lunch on that one too, and consistently violate people's rights anyhow. Is it just bad training? Probably. Is it also our fault? Yes. People need to learn their rights. But cops believe what they're told, and they don't expect us to be armed with knowledge they are either unaware of or don't care about.
On this site, we usually hit much larger issues. But when bylaws that affect our everyday lives are applied, and are based on an ideology instead of facts and science, we'll speak up. And never forget that your basic common-law rights supersede even the Charter and constitutions and cannot be affected by any legislations that impact your rights. Is idling a right? Well, owning personal property (your car) and being told you can't use it as it was intended, use it for comfort (heat/AC), use it to keep it maintained (battery), warm it up properly in the cold, etc etc etc, is certainly unacceptable and outside the jurisdiction of those who supposedly serve and protect us.
This anti-idle bylaw is logistically unenforceable, is a money grab, scientifically invalid, and is nothing more than a PR campaign for the new "Green Vancouver" image our city officials have been trying to push on the world. And of course, it helps secure the voters on the left. I will absolutely not pay this fine, and any action to reach into my wallet, hamper my vehicle, impede my travel, or just waste my time, either by the city or VPD is equal to a criminal act in my opinion.
In protest, I will be running the truck every night for ten thirty minutes, and will record a video of this "unlawful act" while parked in front of the new Carbon Cop station itself. (Watch for video soon)
The pair who visited tonight (badge #'s PC2659, PC2553) should be ashamed, their boss should be held accountable, and the COV and VPD can take turns sucking on my exhaust. That's the closest they'll ever get to my money.
This article and my defiance would not exist if they had not decided to issue me with their fake fine for breaking their fake laws. This is not about the $45 ticket, it's about honesty and common sense. If we allow this to continue, where will it end? And let's put things in perpective while we're at it. Millions of us fight against the UN and the world's wealthy elitists who are pushing their CO2-is-evil hoax on the public, and we have been gaining strong ground. Thanks to the Climategate scandal and a massive 360 degree turn in public opinion, we are winning the green battle. Hundreds of people show up to anti-Al Gore protests on a regular basis. Imagine if the police started enforcing this phony CO2 bylaw on a wide scale!
The UN is beginning to run scared, scientists are speaking out, people are stepping down, and media coverage is helping our cause. Do local police departments and local city councils really think they're going to intimidate and bully us? I think not. And I won't play along.
Regards, and 100,000+ thanks to all our readers,
Justin
Email the Mayor with your thoughts: gregor.robertson@vancouver.ca
Those interested in reading more about the VPD and RCMP "serving and protecting" Canada, please click here and here, and support your local Copwatchers such as this one. Although police power abuse is a subject for a different website, I'm sure many of you are interested. Especially now that it's hitting home.
UPDATE 1: Prominent scientist emails the City of Vancouver.
UPDATE 2: Another local reader gets hit by the carbon clowns.
Please leave your comments. What would YOU do if you faced this situation? What should the Police do? Should this bylaw be fought in court? Your comments will be included in a submission to the VPD as well as to our Mayor and City Council. Thanks! (Comment approval is delayed up to a few hours so don't be surprised if your comment takes a while to appear)