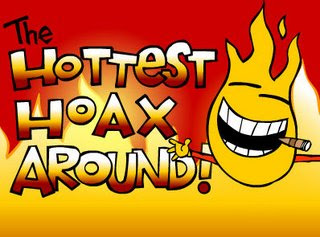 By Alan Caruba, Warning Signs
What does it take to be a dedicated environmentalist—a Green—these days?
"The power of holding two contradictory beliefs in one's mind simultaneously, and accepting both of them." An example would be a belief in "global warming" despite the fact that the planet has been cooling for a decade.
"To tell deliberate lies while genuinely believing in them, to forget any fact that has become inconvenient, and then, when it becomes necessary again, to draw it back from oblivion for just so long as it is needed." This describes anyone who says that carbon dioxide, CO2, is responsible for a warming that is not occurring or that this gas could cause it.
"To deny objective reality and all the while to take account of the reality which one denies." This is how Congress can restrict access to national energy sources—oil, natural gas, and coal—while claiming it wants the USA to be "energy independent."
The definition above comes from George Orwell's "1984" and describes "double think" in his allegory of Communism.
President Obama's environmental beliefs and policies are a composite of outright lies and high on the list is his promise of "Green jobs." This is based on his intention to radically transform our society from one in which energy jobs in areas such as oil production and mining are replaced by those providing wind and solar energy.
The auto industry is getting a makeover as General Motors brands that sell well are forced by government fiat to be abandoned for those few that people want or can afford.
Regarding so-called Green jobs, Thomas J. Pyle, president of the Institute for Energy Research, recently pointed out that a study in Spain that was released in late March made clear that, "Spain has spent billions in taxpayer resources to subsidize renewable energy programs in an effort to jumpstart its ailing economy and what they have gotten in return are fewer jobs, skyrocketing debt and some of the highest and most regressive energy prices in the developed world."
The lies Greens are telling, whether in Spain are here in the USA, always produce the same results. For every "Green job" created by the Spanish government over the past decade, 2.2 other jobs were destroyed as a result. To not expect the same result here is to be willfully ignorant.
All the talk of "clean energy", wind and solar, is now shifting into high gear with the introduction of the Waxman-Markey legislation on March 31. It is touted as "a new direction for America's clean energy future and fighting global warming." At the risk of being repetitive, there is NO global warming. The Earth is now ten years into a cooling cycle.
This is possibly the most dreadful piece of legislation to be put before Congress in the history of the nation. It is the deliberate reordering of American society because without adequate energy, the economy will implode and the lifestyles that Americans take for granted, all based on affordable electricity and fuel for transportation will cease to exist.
It is based entirely on the "global warming" lie. It is based entirely on the lie that carbon dioxide (CO2) is the driving force behind "climate change."
Clean jobs are just one more of the endless lies that Greens tell in order to put an end to America's capacity to compete in the global marketplace.
Clean energy is the term applied to wind and solar energy, deemed "renewable", amidst more lies about the oil and coal which most surely will neither be renewable nor even available if Congress and the White House continue to put the national lands under which they exist off limits to all exploration and extraction.
Totally supported by government subsidies and mandates for their use, wind and solar energy represents barely one percent of the electricity Americans use every day.
In countless ways, the Greens are working to destroy America's ability to have the energy it needs to survive and grow. Our economy, already suffering from government mandates that destroyed the nation's housing market, will utterly collapse when it can no longer access the energy required for the future.
Clean energy is a dirty lie.
Alan Caruba writes a daily blog at http://factsnotfantasy.blogspot.com and a weekly commentary at http://www.anxietycenter.com, the website of The National Anxiety Center.