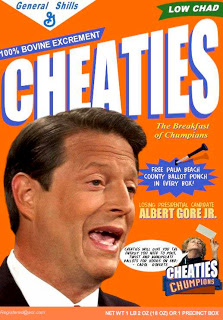 'The whole thing turns on a preposterous theory based on maligning a wholly benign rare gas that is in fact essential to existence of life on earth'
It is all very well for us to talk light-heartedly about the silly season and the preposterous claims of its denizens, but meanwhile the enemy within are pushing the western world steadily towards a lunatic economic suicide, while the enormities they commit are conveniently given cover by the prevailing frivolity. The US Presidency, for example, having largely failed to recruit Congress into its war on industry, resorts to undemocratic methods by permitting the out-of-control EPA to wage it unconstrained. The mostly sympathetic media report it as just another thread in the rich tapestry of modern life.
In the UK , the Telegraph has appointed Louise Gray as Queen of the season and almost daily reports of mostly old scares pour out: so
this one
did not seem all that different. The Carbon Reduction Commitment is, however, a major frontal attack on the core of British industry, involving not only onerous tax increases and draconian fines, but equally importantly it imposes an enormous administrative burden, just at a time when it can do most damage to business and the national economy. Its history is replete with the nastiest characteristics of the genre. Arising from undemocratically evolved EU diktats, it was formulated by the monumentally failed Labour government and has all the hallmarks of the Brownian love of complexity. Then it has been adopted unchanged by the coalition in a covert way. Rather than give fair warning of the pain to come, the Government has treated the whole ghastly affair as a state secret, so that most of the victim companies have no idea of the nightmare that is about to hit them. It has now been exposed in the middle of the silly season, when the victims are supposed to register for fleecing by the end of next month.
One part of the Government is looking to industry to get it out of the current mess, while another part is shackling that industry so that it is even more immersed in a fight for survival.
The incredible fact is that the whole thing turns on a
preposterous theory
based on maligning a
wholly benign rare gas
that is in fact essential to the existence of life on earth.
On the basis of the myth the British have, for example, passively allowed Indians to take over their steel industry, close it down and move it to India . This is just part of a massive migration of industry from the western nations to the Asian ones, no doubt to the satisfaction of the UN administration.