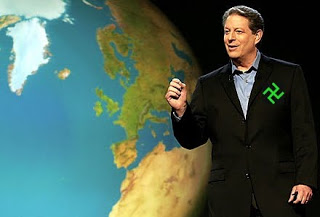 It's hard to be green when you're red-faced all the time. It's easy to be red-faced when your cause is global warming doomsterism.This week, the doomsters were embarrassed to learn, once again, that the planet was not in grave peril. Antarctica, their greatest candidate for catastrophe, was not melting at an ever-faster rate, according to a report in Geophysical Research Letters, but at the slowest rate in 30 years. To add to their frustration, they couldn't even lash out at the lead author, Marco Tedesco of the Earth and Atmospheric Sciences Department of City College of New York — the doomsters had praised his previous reports showing high rates of Antarctic melt.
The latest news from the Arctic — delivered daily via satellite — is no better. Two years ago with the Arctic ice in rapid retreat, the doomsters, convinced of the coming of an ice-free Arctic, could scarcely contain themselves. Now, with the Arctic ice in rapid return, their anticipation of disaster seems more a cruel hoax of Nature. The doomsters now dread to track the satellite data beamed down to us courtesy of the International Arctic Research Center and the Japan Aerospace Exploration Agency — you can see why they cringe each day by going to the satellite website and following the red line: http://www.ijis.iarc.uaf.edu/en/home/seaice_extent.htm.
The red faces aren't all caused by Nature's refusal to cooperate in Earth's demise. The clean carbon folks have recently discovered that they've been in bed with organized crime. Scotland Yard and Europol, among numerous other law enforcement agencies across Europe, are hot on the trail of scam artists believed to have made off with £1-billion by illicitly trading carbon credits. In Australia, authorities are investigating claims that a supplier to Carbon Planet, a carbon trading business, has been using fake carbon trading certificates to persuade forest dwellers in Papua New Guinea to sign over the rights to their forests under a UN scheme called REDD, for "Reduced Emissions from Deforestation and Degradation.'' Australia's REDD-faced Climate Change Minister Penny Wong may now be unable to tout Carbon Planet — about to list on the Australian stock exchange on the promise of A$100-million in REDD assets — at the upcoming climate change meetings in Copenhagen. Other dodgy carbon dealings led to the suspension of the UK branch of SGS, one of the world's largest clean energy auditors, and of the Norwegian certification company DNV.
If universities could blush, Stanford would be setting the skies ablaze with its latest embarrassment, an attempt to censor a global warming documentary about to be released that had filmed one of its professors, global warming catastrophist Stephen Schneider. "You are prohibited from using any of the Stanford footage you shot, including your interview of Professor Stephen Schneider," Stanford demanded in a letter. "Professor Schneider likewise has requested that I inform you that he has withdrawn any permission for you to use his name, likeness or interview in connection with any film project you may undertake."
What caused Stanford and Schneider to go ballistic over the release of the documentary, Not Evil Just Wrong, by independent Irish filmmaker Phelim McAleer? He asked Schneider about his many predictions of global cooling catastrophe in the 1970s.
Why did the filmmaker back down, even though he had obtained permission for the interview? In legal proceedings, a well-heeled bully has no difficulty beating up a poor guy with only right on his side. Not that the gentleman lacked either spine or recourse. He then documented the bad behaviour of Stanford and Schneider by having an actor read Schneider`s words before a blank screen. After its release, on Oct. 18, the sky over Stanford will turn an even deeper hue of red.
This week of embarrassment for the global warmists does not look all that different from most weeks. Overzealous scientists and their enablers have a habit of selecting the data they like and setting the rest aside. Some — Schneider among them — have even justified exaggerating the dangers in the cause of making the public take note. When they get caught they often resort to obfuscations and cover-ups.
And red faces become the norm.
Financial Post
LawrenceSolomon@nextcity.com Lawrence Solomon is executive director of Energy Probe and Urban Renaissance Institute and author of The Deniers: The world-renowned scientists who stood up against global warming hysteria, political persecution, and fraud. www.energyprobe.org.
Source