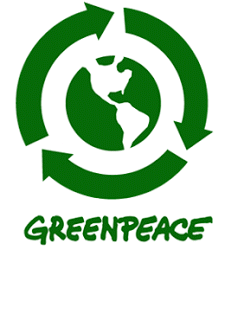 OVERVIEW
Greenpeace is the largest environmental organization in the world, with an international membership of over 5 million and offices in over 20 countries. Forbes magazine once described it as "a skillfully managed business" with full command of "the tools of direct mail and image manipulation — and tactics that would bring instant condemnation if practiced by a for-profit corporation." But Greenpeace has escaped public censure by hiding behind the mask of its "non-profit" status and its U.S. tax exemption.
Greenpeace was originally the brainchild of the radical "Don't Make a Wave Committee," a group of American draft-dodgers who fled to Vancouver in 1969 and, supported by money from anti-war Quaker organizations, got into the business of forcibly blocking American nuclear tests. Over the years the group has loudly made its feelings known on a variety of issues (nuclear testing, whaling, and global warming, for instance), and its Amsterdam-based activist moguls pull the strings on what is estimated to be a $360 million global empire.
Here in North America, however, Greenpeace is a relatively modest activist group, spending about $10 million per year. And the lion's share of that budget in recent years has gone to outrageous attempts to smear agricultural biotech products and place doubts about the safety of genetically improved foods in the minds of consumers [and most of the rest goes towards their misleading climate change campaigns].
It was Greenpeace campaign director Charles Margulis who is credited with coining the term "FrankenFood." It was Greenpeace activists who conspired with other tax-exempt groups (like Friends of the Earth and the Organic Consumers Association) to "expose" the supposed dangers of StarLink corn. Among Greenpeace's recent innovations has been the creation of a "citizen's labeling brigade" — basically a group of hooligans who take the law into their own hands by forcibly adding home-made, propaganda-laden "warning labels" (some complete with skull-and-crossbones artwork) to consumer food products on grocery store shelves. And it was Greenpeace that intentionally inflated the urban legend that biotech corn would place the monarch butterfly population in harm's way. When your local news carries footage of protesters railing against genetically improved foods, look hard for the slogan-shouting troublemakers wearing monarch butterfly costumes. That's Greenpeace's handiwork.
Greenpeace USA has also been raising a stink about the growth of the biotech fisheries industry. A handful of innovative businesses have learned how to genetically improve certain salmon species to make them grow faster, and Greenpeace will have none of it. The group is doing all it can to frighten consumers of this new product, and working behind the scenes to have it banned before it can even reach to marketplace.
With each cry of "wolf," Greenpeace seems to up the ante while ignoring the real-world consequences of its rhetoric. The group has warned that genetic crop engineering would cause new and horrible food allergies (it hasn't), and that biotech corn would endanger monarch butterflies (whose numbers have increased substantially since the introduction of biotech corn). And completely forgotten by the "Frankenfood" protesters is the tremendous potential for biotech foods to solve many of the Third World's famine-related problems. Tanzania's Dr. Michael Mbwille (of the non-profit Food Security Network) said it best. "Greenpeace," he wrote, "prints and circulates these lies faster than the Code Red virus infected the world's computers. If we were to apply Greenpeace's scientifically illiterate standards [for soybeans] universally, there would be nothing left on our tables."
MOTIVATION
The "green" in Greenpeace, it turns out, stands more for money than for the environment. When its anti-biotech scaremongering drove consumers in Brazil away from genetically improved foods, Greenpeace swooped in with its own line of organic foods to fill the demand that its activists created. Greenpeace's more recent reckless activism is a broader attempt to create the same sort of consumer shift here in the United States.
And why not? Greenpeace itself (as is the case with a variety of anti-biotech activist groups) is heavily invested in the organic foods industry. The International Foundation for the Conservation of Natural Resources noted in a November 2001 report that Lord Peter Melchett, the former leader of Greenpeace's UK office "is one of the largest organic farmers in Europe." So when Greenpeace campaigners send hundreds of threatening letters and e-mails, make phone calls by the thousands, and stage intimidating live protest "actions" against their corporate targets, their own bottom line (and that of their financial supporters) stands to benefit.
Even if you discount the impact of hidden financial motives, the more obvious ones are pretty convincing. Last year, Greenpeace USA raised over $8 million in cash, and its bean-counters know very well that the group isn't completely immune from public backlash. In February 2001, Greenpeace issued a press release blasting genetically improved "golden rice," the enhanced crop that could save hundreds of thousands of Third World children from blindness and death. In response, the biotech rice's inventor went public with a scathing response, exposing the activists as "political extremists." Within 24 hours, Greenpeace had backed down amid a slew of membership cancellations.
BLACK EYE
Patrick Moore [a supporter of this site] was one of a dozen or so activists who founded Greenpeace in the basement of a Unitarian Church in Vancouver. Within 7 years, the organization had footholds in over two dozen countries and a $100 million budget. As eco-activists in general found themselves suddenly invited into the meeting-places of business and government, Greenpeace made the decision to take even more extreme positions, rather than being drawn in to collaboration with their former enemies.
Moore broke with his comrades during this period, and has emerged as an articulate critic of his former brainchild. Referring to Greenpeace's "eco-extremism" in March 2000, he described the group in Oregon Wheat magazine as "Anti-human"; "anti-technology and anti-science"; "Anti-organization" and "pro-anarchy"; "anti-trade"; "anti-free-enterprise"; "anti-democratic"; and "basically anti-civilization."
Writing in Canada's National Post in October 2001, Patrick Moore offered the following critique: "I had no idea that after I left in 1986 they would evolve into a band of scientific illiterates…. Clearly, my former Greenpeace colleagues are either not reading the morning paper or simply don't care about the truth."
UPDATE: Greenpeace caught red-handed lying about Arctic ice.