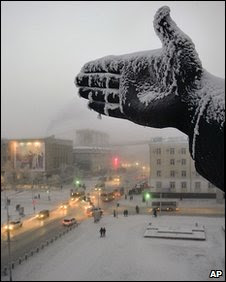 While extreme winter weather in parts of Europe, Asia and the US has brought normal life to a virtual standstill for millions of people, many other inhabited places manage to function where such sub-zero temperatures are routine.
In the north-eastern Russian Republic of Sakha (Yakutia), the village of Oymyakon is commonly called the coldest populated place on Earth. Situated in an area of Siberia nicknamed "Stalin's Death Ring" (a former destination for political exiles), Oymyakon boasts an average winter temperature of -45C, with a one-time world record low of -71.2C.
Yakutsk (file photo)
Welcome to Yakutsk
It is home to several hundred people, and until recently a single hotel with no hot water and an outside toilet. While a flurry of snow in Western Europe can cause schools there to close for days, Oymyakon's solitary school shuts only when temperatures fall below -52C (the school has only enjoyed the luxury of an indoor toilet since 2008).
Most homes in Oymyakon still burn coal and wood for heat and enjoy few modern conveniences – mobile phones, even if a service was available in the area, would not work in such extreme cold.
Nothing grows there, a single shop provides the town's provisions and with jobs in short supply most locals resort to reindeer-breeding, hunting and ice-fishing for their livelihoods. Ironically, Oymyakon means "non-freezing water", situated as it is to a nearby hot spring.
'Don't wear glasses'
Oymyakon is a three-day drive away from the nearest population centre, Yakutsk, the capital of Sakha and, perhaps unsurprisingly, the coldest city in the world.
More than 210,000 people live there, despite a constant state of permafrost, and temperatures in the winter which average about -40C.
COLDEST RECORDED PLACES
Vostok, Antarctica: -89.2C
Oymyakon, Russia: -71.1C
Verkhoyansk, Russia: -67.7C
Snag, Yukon, Canada: -63C
Prospect Creek, Alaska, US: -62.1C
The city still manages to run, however. It is served by two airports and is home to a university and several schools, theatres and museums. Residents reportedly leave their vehicles running all day and warn visitors against wearing glasses outside, as they will freeze to a person's face.
Yakutsk sits on the western bank of the Lena River, but winters can be so severe that even the river can freeze sufficiently thick to allow traffic to drive straight across to the other side.
Over in the Western hemisphere, extreme cold is also a perennial feature of many towns and cities. In the United States, International Falls in Minnesota, and Fraser, Colorado, with average mean temperatures around 0 to 2C, have for years vied for the title of Icebox of the Nation. The battle was only resolved in the courts, with the accolade being awarded to International Falls.
Of the two places, International Falls has recorded the lowest temperature, of -40C in 1967. Not one for decrying the cold, the city celebrates its wintry fame, with an annual four-day Icebox Days festival, which includes events such as frozen turkey bowling, snow sculpting and candlelit skiing.
Tourism is the city's second most profitable industry, a side-product of freezing conditions not lost on other places which live year-round in the grip of the cold (such as in the Swedish village of Jukkasjarvi, which boasts the world's largest ice hotel).
Call that cold?
The title of the consistently coldest place in the US has frequently fallen to the town of Stanley in Idaho, which had the highest number of coldest days between 1995 and 2005. While the town's 100 or so residents enjoy rafting, hiking and fishing in the summer, outdoor pursuits in the winter are confined to snowmobiling and cross-country skiing.
Swimmers in Berlin, Germany (01/01/10)
For some, the freezing cold provides an opportunity for an edifying dip
In Europe, Scandinavia regularly sees some of the continent's coldest weather and as such is well-equipped to deal with it.
Residents who contacted the BBC News website expressed astonishment at the television pictures and stories of the effect the snow is having in places not used to such conditions.
Maija messaged from Mouhijarvi, in western Finland, deriding the weather in Poland, where temperatures have fallen to as low as -25C.
"Ha! It's 5pm in Mouhijarvi and the thermometer outside our kitchen window is currently reading -28C. With no cloud cover in sight I would expect the temperature to fall at least a couple of degrees during the evening. Not abnormal here at this time of year," she said.
Briton Roger Hampton said he travelled 250km from his home in Oslo, Norway, without problems on Wednesday when it was -22C.
"In the town Roros, in central Norway, it has been -40C the last two nights. I have not heard of schools closing and the roads are for the most free," he said.
In several European countries, including Norway, the use of winter tyres on vehicles is required by law. In contrast, in the UK, where no such law exists, during the wintry weather, drivers there are advised to use their vehicles for essential journeys only.
"Why do the English have this problem every year?", asks reader Dario More in Germany. "Here, in Dresden, at -13C, I drive my car normally on ice and snow," he says.
Full credit for this article goes to the BBC. http://news.bbc.co.uk/1/hi/world/europe/8445831.stm