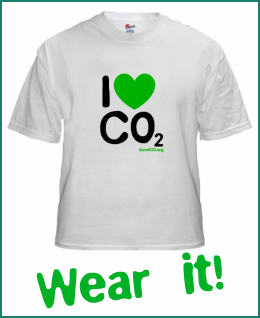 You asked for it, begged for it, and probably always dreamed about it.
Now you can proudly show your love for all things truly green. Buy yourself the coolest t-shirt in town and a bunch for your friends and family too. And don't forget to wear them while you crash your next local alarmist gathering.
Grab your shirts, stickers, hats, and even a clock, then send the pictures to us. We will publish your best CO2-loving portraits on this site. Al Gore is having nightmares already.
Here's a small sample of the Green Goods:
To order yours, click here. We thank you all for the amazing support and readership. Keep exhaling!
Justin