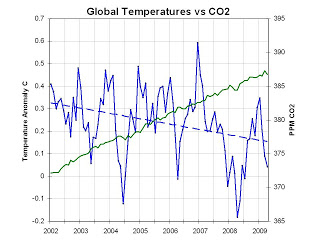 Hello mainstream media…where are you?
Record low temperatures in 18 states – 6 Jun 09
Record low temperatures in 15 states – 5 Jun 09
Record low max temperatures in 24 states – 5 Jun 09
Record low temperatures in 11 states – 4 Jun 09
Record low max temperatures in 20 states – 4 Jun 09
Record low temperatures in seven states – 3 Jun 09
Record low max temperatures in 10 states – 3 Jun 09
See Record Low Temperatures across the US.
A bumper start to the ski season, Canberra frozen, snow over the Melbourne hills, widespread severe frost and records are falling. The cold snap is abating slowly, but not before a final icy sting that has seen records fall across the southeast in the last 24 hours. Frost under clear skies last night was severe in much of the inland, notably Canberra's -5.8 degrees this morning, their coldest for June in nine years. Yesterday, Thredbo reached a high of -6.4 degrees, the coldest maximum recorded in New South Wales for 31 years. Last night, Cabramurra's minimum fell to a 12 year low of -6.8 degrees. Coastal locations also felt the cold with Montague Island's mercury levelling out at three degrees last night, their coldest June night in 37 years. Queenslanders have been feeling the cold too, with frosts pushing through the southern inland. Last night Toowoomba recorded -1 and Coolangatta just 2.2 degrees. Tonight Brisbane is next on the current cold blast's whirlwind tour of the southeast, a minimum of five degrees is forecast, potentially their coldest June night in seven years.ZIMBABWE:
With the country at the beginning of the winter season that always experiences an increase in the demand of power due to the cold weather, Zimbabweans are headed for the worst winter in the history of the country.
On Monday, all residential areas in Bulawayo did not have electricity, a development that also affected the city's hospitals.
Already, residents of Bulawayo have lost property to criminals who take advantage of the dark nights to rob them of their belongings.
NEW ZEALAND: Ski resorts gear up for action
Across the ocean at New Zealand, favourable cold weather, consistent snowfalls and plenty of snowmaking opportunities resulted in superb snow conditions for the opening of Coronet Peak on the Queen's birthday weekend, in Queenstown.
Cold, wet spring hindering farmers and gardeners in Manitoba
Billings, MT – More record-setting cold
THE NATIONAL WEATHER SERVICE SAYS THAT A RECORD LOW MAXIMUM TEMPERATURE OF 47 DEGREES WAS SET AT THE BILLINGS AIRPORT YESTERDAY. THIS BREAKS THE OLD RECORD FOR A JUNE SEVENTH OF 48 SET IN 1974.

AND THERE WAS ANOTHER RECORD LOW HIGH TEMPERATURE SET ON SATURDAY. THE MERCURY ONLY REACHED 50 DEGREES ON JUNE SIXTH, BREAKING THE OLD RECORD OF 52 SET IN 1945.
Lack of global warming hits Finland
Aatos Kantanen, who lives in Kyyjärvi in Central Finland, rubbed his eyes when he took a look at his outdoor thermometer at 3.00 a.m. during the night between Saturday and Sunday. The reading was – 10°C. Yes, minus 10.
"Several perennials that have never been affected before were killed by the frost in our garden. For example some common hops (Humulus lupulus) got frostbitten, while the bergenias (Bergenia cordifolia) are looking rather bleak, and the garden bushes have suffered as well", reports Aatos Kantanen's wife Pirjo Kantanen, speaking over the phone from her garden in Kyyjärvi on Monday evening.
…
At the same time, a number of chicks have been found dead in nests as a result of the chilly early summer.
"The smaller the chick and the more open the location of the nest, the more sensitive the young bird is to cold", reports Teemu Lehtiniemi, the head of conservation and science at BirdLife Finland, the parent organisation of Finnish ornithological societies.
"The cold period has certainly been difficult for terns (Sternidae) nesting on rocky islets and for northern lapwings (Vanellus vanellus) nesting in fields", Lehtiniemi observes.
H/T: Tom Nelson
AccuWeather's Joe Bastardi: "the 'science is in' crowd does not want them to see facts" and parts of US to have "year without a summer" « Watts Up With That?
The NOAA Climate Prediction Center 8-14 day forecast says it is already shaping up to be a cold June…