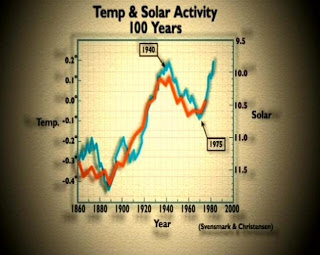 VANCOUVER, BRITISH COLUMBIA–(Marketwire – April 21, 2009) – A 110-page report by an international team of climate experts published today by the independent Fraser Institute examines critically-important scientific evidence that has been overlooked or omitted in government reports that blame climate change on carbon dioxide emissions.
The report, Critical Topics in Global Warming, supplements the Fraser Institute's Independent Summary for Policymakers, a 2007 analysis of the United Nations' Intergovernmental Panel on Climate Change Fourth Assessment Report.
The new peer-reviewed report's seven chapters investigate published scientific literature on issues such as the effects of ocean oscillations and solar variations on climate, historical climate variability, statistical challenges in climate analysis, uncertainties in climate modeling, and quality problems in temperature measurement systems. The report leaves no doubt that the science is far from "settled" on climate change.
The new report reviews published evidence demonstrating such critically important points as:
– Natural oscillations of the Pacific and Atlantic oceans-not increasing levels of greenhouse gases in the atmosphere-explain 20th century weather changes in the United States, Greenland, and the Arctic, as well as the reduction of Arctic sea ice.
– Arctic air temperatures over the last century correlate better with average incoming solar radiation than levels of atmospheric carbon dioxide.
– Evidence from around the world reveals climatic conditions in the Medieval era were warmer than the recent era. As the report states: "Late 20th century temperatures are not unprecedented, falling well within the range of natural millennial-scale variability, particularly in comparison to the interval 1,000 years ago when there was 25 per cent less carbon dioxide in the air than there is today."
– The popularized notion that carbon dioxide "traps heat" in the atmosphere, thereby raising temperatures as in a greenhouse, is inaccurate. As the report states: "The atmosphere does not actually work like a greenhouse …Unlike the greenhouse case, whether or not temperature changes, and how it changes, depends on the details. And the details cannot be determined from first principles."
– Extensive problems in the global weather station network, including urbanization near the thermometers and a sharp loss of monitoring sites in the early 1990s, indicate the likelihood of an upward bias in many published global surface warming trends.
– Climate trend analysis has been skewed by a failure to properly account for long-term persistence. New statistical modeling work has challenged the view that recent trends are outside natural variability.
– Computer-based climate modeling has contributed to our understanding of the climate, but it is insufficient as the basis of global warming theory. Too much emphasis on modeling discourages scientists from pursuing alternative, complementary scientific strategies that are essential for moving ahead.
The complete study can be downloaded at www.fraserinstitute.org.
The Fraser Institute is an independent research and educational organization with locations across North America and partnerships in more than 70 countries. Its mission is to measure, study, and communicate the impact of competitive markets and government intervention on the welfare of individuals. To protect the Institute's independence, it does not accept grants from governments or contracts for research. Visit www.fraserinstitute.org.

Source