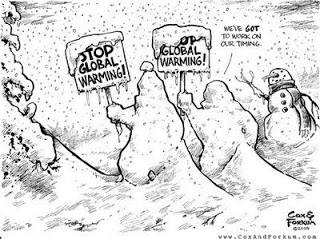 From the "weather is not climate" department, inconvenient travel: Here's a sample of headlines related to difficult if not impossible holiday travel:
Christmas Eve storm in central states creates travel misery (WaPo)
A slow-moving storm spread snow, sleet and rain across the nation's midsection Thursday, making last-minute holiday travel treacherous but promising a white Christmas for some. The National Weather Service issued blizzard warnings for parts of Oklahoma, the Dakotas, Wisconsin, Minnesota and Texas. It cautioned that travel would be extremely dangerous in those areas through the weekend and that drivers should pack a winter survival kit. Winter Storm Disrupts Holiday Travel (NYT) "Snow will be falling at a rate that snow plows are not able to keep up with," AccuWeather reported on its Web site, "while winds gusting past 40 miles per hour will cause severe blowing and drifting along with whiteout conditions." Heavy snowfall causes disruption across Europe (BBC) Heavy snow and ice are causing disruption across a wide swathe of Europe. Flights have been delayed or cancelled at airports in Britain, Belgium, France, Germany and the Netherlands. Power providers in south-east France say they have had to cut supplies to around two million people to avoid a massive regional blackout. In Poland, nearly 60 people have died this December because of the weather. Rare blizzard strikes West Texas
DALLAS — In much of the rolling plains of West Texas, a blizzard has never been recorded. There has been one now. The region west and northwest of the Dallas-Fort Worth area saw blizzard-like conditions throughout the day Christmas Eve as up to 8 inches of snow fell in the region, according to the National Weather Service. Winds gusting at up to 65 mph drifted the snow as deep as 5 feet in some areas. No blizzard warning had ever been issued for an area of Texas as far south as Interstate 20, said Jim Wingenroth, senior forecaster at the National Weather Service office in San Angelo. Heavily traveled Interstate 20 between Cisco and Abilene was closed after six inches of snow fell in the area 130 miles west of Dallas, said Larry Smith, Brownwood area engineer for the Texas Department of Public Safety.
Treetops glisten, but storm snarls Midwest holiday (Atlanta Journal Constitution) The Star-Telegram said the Dallas-Fort Worth area was experiencing its first White Christmas in more than 80 years. While the area had a sprinkling of holiday snow in 2004 and 1997, the lasttime it experienced "a true, New England-style dose of snow on Christmas Day was Dec. 25, 1926," the newspaper reported. Some churches canceled Christmas Eve services, while others saw sharply lower attendance. Oklahoma City had received 14 inches of snow by Thursday night, breaking a record set back in 1914 of 2.5 inches. Source by Anthony Watts