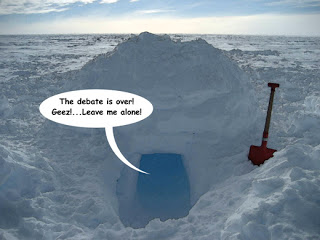 America has been getting hammered with record snowfall on the east coast. Washington, D.C. and Baltimore received 16.4 inches and 21 inches respectively, and that's just for Saturday.
This weekend's storm was enough to top Washington's record for the entire month of December, which was set in 1962, when the total reached 6.2 inches. For the month, Washington has received 16.6 inches. The storm was also notable for the amount of snowfall in a single day. Washington received 15 inches, the third-highest single-day total since 1884.
Here's some other recent headlines:
The above headlines are just from December, most of the concerning storms that hit before the first day of winter. This cold weather has been hitting around the world all year. In February, the UK was hit with the worst blizzard in decades. Washington, D.C. global warming protesters were greeted with a record foot of snow in March. Montana took a snowy beating in April:
By Wednesday evening, the National Weather Service office in Great Falls had recorded 13 inches of snow for the day – that's on top of 8 inches from the previous day – and the flakes were still falling. The previous high for snowfall on April 29 in the city was 5.4 inches, set way back in 1913. "So we broke that record pretty handily," said Jerome Saucier, operation program leader for the NWS Great Falls office. It was also the record for precipitation of any kind for the date in Great Falls, with the equivalent of .6 inches of rain falling. The old record, also in 1913, was .43 inches. And the Electric City didn't get the worst of it – not by a long shot. Around Duck Lake, near Babb, the storm dumped more than 4 feet of snow, the NWS reported.
In May, we saw "Record Early Season Snow in New Zealand." Remember when North Dakota had record snow…in June.
It's been 60 years since there was snowfall in western North Dakota in June. According to reports, that record has finally been broken and it snowed in Bismarck.
I remember needing a jacket on July 4th because it was so cold. I wasn't alone. It was the coldest July on record in six states. In the Falkland Islands this August, "Forty-three centimetres of snow were recorded, a new record at Mount Pleasant." In October, Denver was hit with the worst snow in 12 years. In November, "Italian ski resorts [were] killing it with record snow." With 2008 being the coldest winter in seven years, or as some like to put it, the coldest winter this century, and this winter being especially brutal already, I have to wonder why CO2 isn't keeping this at bay. Or, stick with me now, could it just have something to do with the lack of activity from a fiery mass that just happens to make up 98% of the solar system's mass. Seventy four percent of 2009 was without a sunspot. There were multiple months with record low temperatures. I don't think that is a coincidence. What do you think?Source by Duane Lester