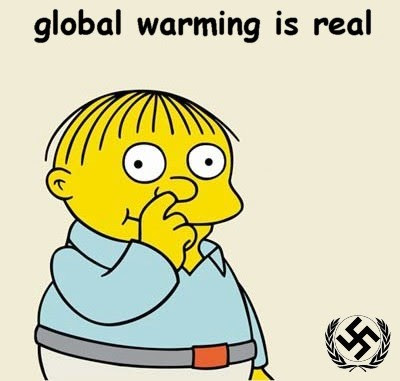 The Intergovernmental Panel on Climate Change is seeing its reputation disappear faster than a fish down a polar bear's gullet. Christopher Booker reports in the Sunday Telegraph that, following the IPCC's grovelling admission that its 2007 statement that Himalayan glaciers could disappear by 2035 had no scientific basis and that its inclusion in the report reflected a 'poor application' of IPCC procedures, more has come to light about the bogus 'research' on which the IPCC based this claim – which came from a report in New Scientist which was in turn merely drawn from a phone interview with a little-known Indian scientist, and that scientist's links with the IPCC's chairman, Dr Rajendra Pachauri:
…the scientist from whom this claim originated, Dr Syed Hasnain, has for the past two years been working as a senior employee of The Energy and Resources Institute (TERI), the Delhi-based company of which Dr Pachauri is director-general. Furthermore, the claim – now disowned by Dr Pachauri as chairman of the IPCC – has helped TERI to win a substantial share of a $500,000 grant from one of America's leading charities, along with a share in a three million euro research study funded by the EU. At the same time, Dr Pachauri has personally been drawn into a major row with the Indian government, previously among his leading supporters, after he described as 'voodoo science' an official report by the country's leading glaciologist, Dr Vijay Raina, which dismissed Dr Hasnain's claims as baseless. Now that the IPCC has disowned the prediction made by his employee, Dr Pachauri has been castigated by India's environment minister, Jairam Ramesh, and called on by Dr Raina to apologise for his 'voodoo science' charge. At a stormy Delhi press conference on Thursday, Dr Pachauri was asked whether he intended to resign as chairman of the IPCC – on whose behalf he collected a Nobel Peace Prize two years ago, alongside Al Gore – but he refused to answer questions on this fast-escalating row.
Meanwhile, in the Mail on Sunday David Rose reveals that the co-ordinating lead author of the IPCC report chapter which contained this falsehood about the vanishing Himalayan glaciers, Dr Murari Lal, has admitted that he was well aware that this statement was not backed up by peer-reviewed research but included it anyway purely to put political pressure on world leaders. He said:
It had importance for the region, so we thought we should put it in.
The fact that it was totally untrue appears to have been irrelevant. Also yesterday, the Sunday Times revealed yet another false claim by the IPCC which has now bitten the dust. This was the claim that man-made global warming was linked to an increase in the number and severity of natural disasters such as hurricanes and floods:
It based the claims on an unpublished report that had not been subjected to routine scientific scrutiny – and ignored warnings from scientific advisers that the evidence supporting the link too weak. The report's own authors later withdrew the claim because they felt the evidence was not strong enough. The claim by the Intergovernmental Panel on Climate Change (IPCC), that global warming is already affecting the severity and frequency of global disasters, has since become embedded in political and public debate. It was central to discussions at last month's Copenhagen climate summit, including a demand by developing countries for compensation of $100 billion (£62 billion) from the rich nations blamed for creating the most emissions. Ed Miliband, the energy and climate change minister, has suggested British and overseas floods – such as those in Bangladesh in 2007 – could be linked to global warming. Barack Obama, the US president, said last autumn: 'More powerful storms and floods threaten every continent.' Last month Gordon Brown, the prime minister, told the Commons that the financial agreement at Copenhagen 'must address the great injustice that . . . those hit first and hardest by climate change are those that have done least harm'.
This claim was exploded in a 2006 study by disaster impact expert Robin Muir-Wood, who found that the link between man-made global warming and increases in climatic storms didn't stand up. The IPCC actually incorporated part of his study into its own report – but quoted it selectively to produce the opposite conclusion. The IPCC also failed to reveal in advance of the Copenhagen summit that the non-peer reviewed paper on which its claim of the link had been based had issued a caveat when it was finally published in 2008, which stated:
We find insufficient evidence to claim a statistical relationship between global temperature increase and catastrophe losses.
Such selectivity and distortion by the IPCC challenge the excuse for its behaviour now being trotted out that errors are bound to creep into such a voluminous body of work from time to time. These are not errors made in good faith. These are falsehoods resulting from a mindset which ruthlessly makes use of any claims that back up AGW theory – with any frailties or contradictions in the evidence deliberately concealed. The Global Warming Policy Foundation reports that the suggestion that the Himalayan glaciers falsehood was an uncharacteristic mistake is not borne out by the evidence, which reveals that doubts and questions are routinely ignored in the IPCC's review process. But of course. Facts cannot be allowed to get in the way of the theory. Thus the IPCC, the 'scientific' body whose apocalyptic predictions of planetary doom have driven the politics of the entire western world off the rails. Who can possibly take this body — or anyone who has supported it and promoted its falsehoods as unchallengeable truths — seriously ever again?Source by Melanie Phillips